Family Sea Kayaking Holiday in Croatia – Leader Interview
Leader interview: – Family Sea Kayaking in Croatia
Sandy beaches are always favorite spots to find on our family kayaking trip.
Such as Sunj beach, on the south side of Lopud Island. We kayak there on the first day, so it is the first arrival at a beach, and it is the biggest sandy beach in this area. We come around a corner and suddenly you see it, just keep paddling towards it for three or four minutes and then we land directly on the sandy beach with the kayak. Kids love that feeling of landing on a sandy beach, and it is a shallow bay, so you can play there for ages.
Families love to watch the fishermen on the islands, and how they are working on the nets.
That is always interesting for them, and they love to run around the fishermen, watching them preparing their nets for the next day, or bringing in their fish. And of course, Croatians are always very friendly with children.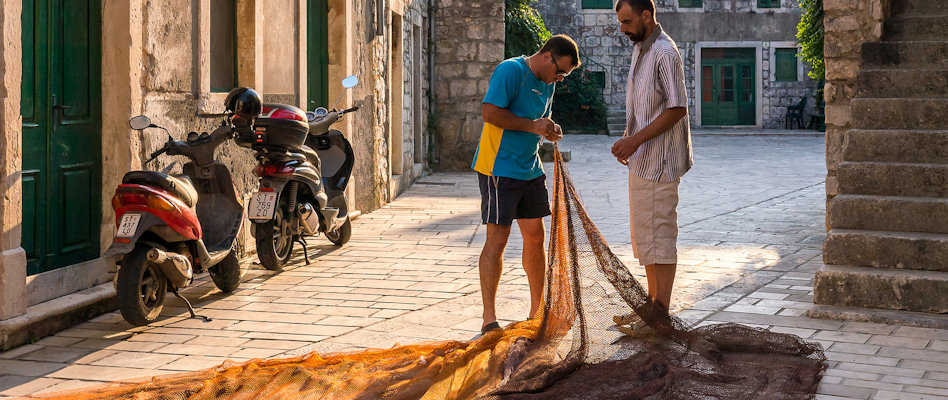 Fishermen preparing their nets (Photo by
A_Peach
)
I met one family who was touring the world for the last six years, and they came here to spend one week kayaking with us.
They were Canadian, and they had learned so many things along their travels all around the globe for six years, taking their kids to different schools and so on. That was really amazing. They hadn't kayaked before, so they found our trip and chose to spend one week with us. Even after six years, they enjoyed this new experience. They liked the islands, the trip, and particularly Lopud Island.
We had one family kayaking with us, with a small girl who was almost blind.
She kayaked in a double kayak with one of her parents and everything was really great. It wasn't the first time she had been kayaking, they had done it before, but it all went really well.
This kayaking trip is full of wonderful smells.
As well as the sea and the smell of the pine trees, on Kolocep Island you can smell the fish being cooked on a restaurant's barbecue, with rosemary too, as you arrive paddling into the bay. A lot of food is cooked outdoors here, so that is a common smell.
When we go to the sea caves, the guide will go into the cave first and hide some chocolate coins as treasure. When the children enter the cave they go searching for their gold treasure.
The kids find this fantastic. The highlight of our trip is paddling out to the caves actually. There is a small hole to get in there, so you don't need to dive under the water to get in. But when you enter into the cave, the colours inside are really amazing. On the bottom there is sand, so if you come at the right moment, and the sand is still on the good side, the water reflects on the sand under the water, and in the cave everything is bright, and the water is all green and blue and turquoise colours. They are lovely and light inside, and not scary at all. But really beautiful.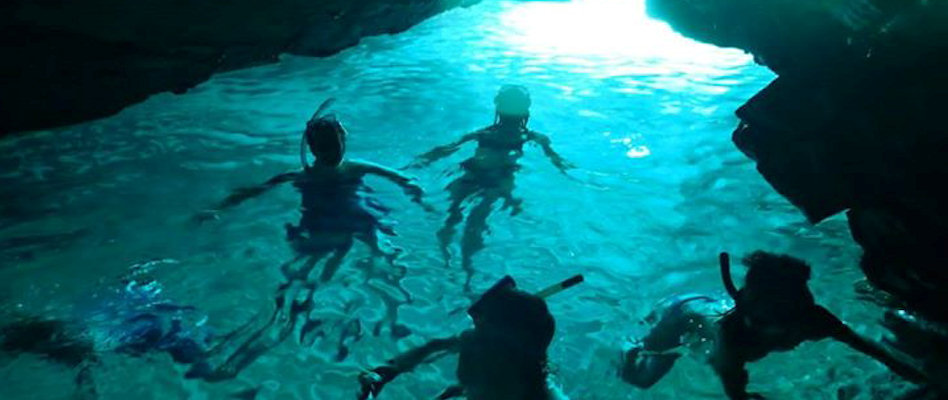 A good tip for parents on this trip is to bring snacks for the kids.
Maybe some sweets or something like that for when they are out paddling. Kids always need something, and also for energy. They should bring something for me too, of course, although I love chocolate!
The three most important things for guests to have with them on this trip are water, suncream and a hat. And a drybag, but we give these to all the guests at the beginning of the trip.
Children always take a double kayak with their parents, so if they get tired the parents can paddle for them.
This is a good combination, with the children in front and the parents behind, so that they can look and take care of the children. They don't ever seem to fight with their parents when they are out kayaking. I think it makes them calm on the water. Because usually if you want to go left, they want to go right, but when they have a guide, they know that they have to follow the same direction. And they know that they need to listen to me!
Children love the chocolate soufflé that you get in Croatian restaurants.
It is a very popular dessert. They prepare the chocolate in a pot, and then they burn the surface and add one cup of vanilla ice cream on top. So it is really nice. We call it Chocolate Soufflé in Croatian too, we use the international word, and it is a big favourite with families.
The best moment for children on this trip is usually diving into the sea.
They jump of the docks in small bays, and we take lots of breaks for swimming and snorkelling, and so this makes it lots of fun for them. We have snorkels for everyone which we hand out on the first day to anyone who wants to snorkel, along with their dry bags.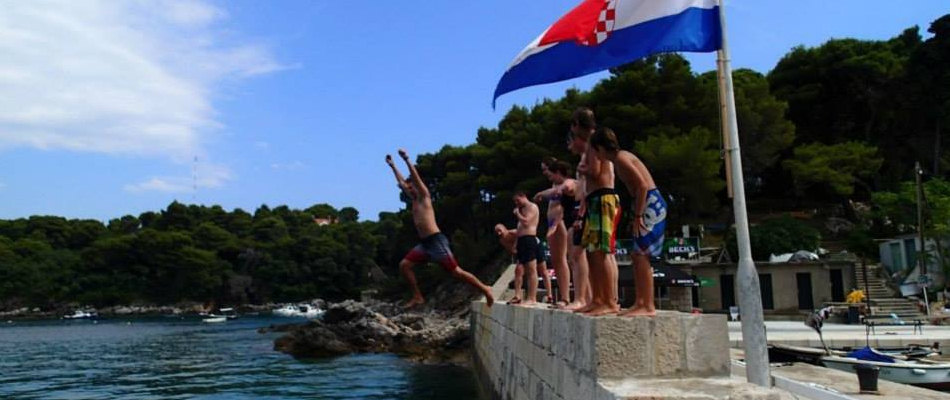 If a child is tired or unhappy on the water for some reason, we can always put them in a speedboat for a while.
I can usually tell if a child is not having so much fun, so I suggest a boat ride, I give them a captain's hat so that they feel like the captain, and so they are kept entertained in a different way, and still have fun. It is quite an active holiday, but it is a good combination, because they are not only kayaking but also going in a speedboat, on a driving trip, and not paddling all day every day.
Sometimes we see dolphins, especially when we do a crossing from island to island.
But they usually appear early in the morning, around 7am, so you need to keep an eye out on the sea when you are having breakfast. And kids love that when they see them.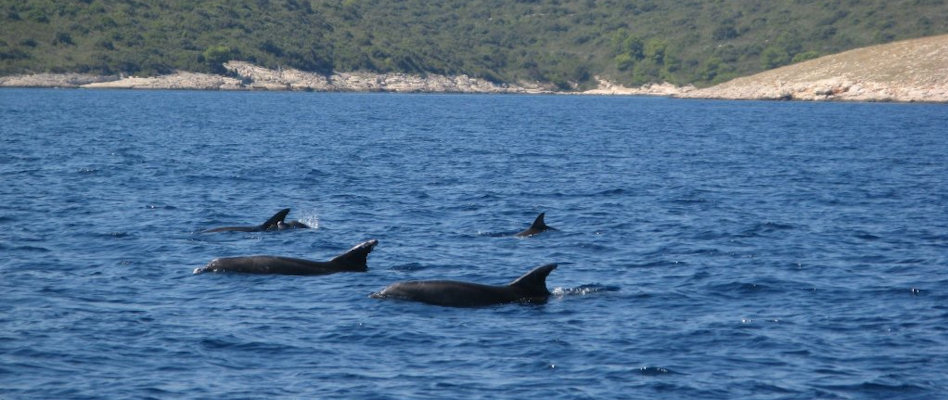 In terms of safety, we have very good procedures. Which is important for families to know.
At every moment, we have a guide on Lopud Island who can get to us in five minutes on any of the other islands. We have phone signals, as we don't go far, and so they can be with us very quickly to get us back if there is a problem.
I love when I see kids and parents enjoying my trip. When I see that they are happy I am happy too.
It is really great to see families bonding on the water, and spending time together in this way. That is what I also hope for my future, and do the same with my kids, in a family on a kayak trip like that. Especially when I see how happy they are on the water together. And that makes me really happy and makes me keep going with this job. That is really the soul of this job, I think. I am just here to give them the best of Croatia and that's all.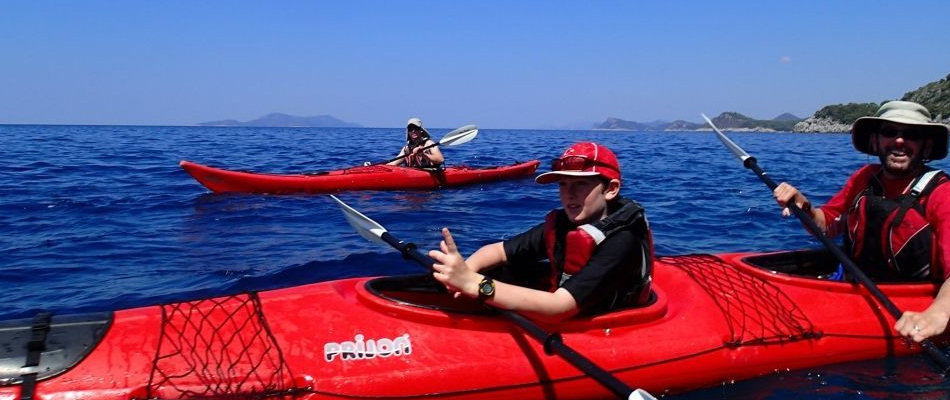 Before the trip we give our guests a map of the coast and the islands where they will be travelling.
It is a normal map, with all the nautical things that need to be on there, and we make lines where they will travel during that week, and then they like to keep these as souvenirs. On the back of the map, they put contact details of other guests and signatures and so on, so they all love this as a souvenir of their kayaking trip.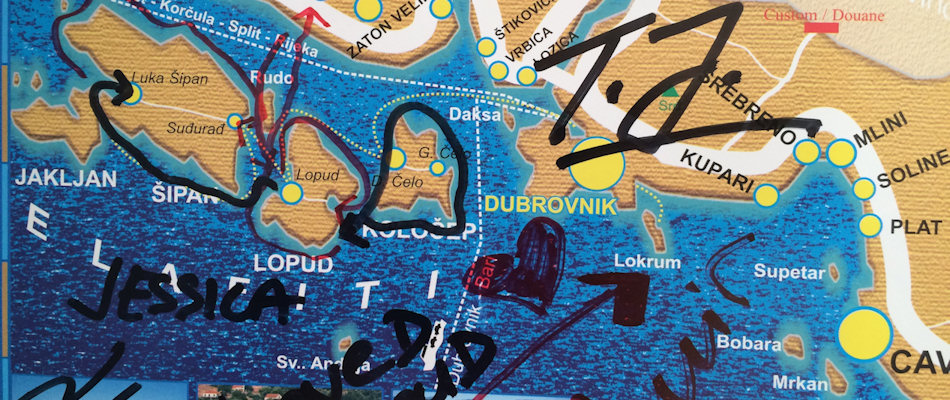 The sea kayaking in Croatia is really amazing, and I am happy to show people the best of it.
But personally, for white water river kayaking, I think Slovenia is amazing. The river Sohja is really really nice. There are lots of rivers, but Soja is great. It is an alpine river with sand on the bottom, and so it is really really clear. The colour is amazing. The guides are good and everything is great. I go there every year in March when the snows have melted and the white water is great. But also in summer, with the kids, it would be nice. It isn't so far from Croatia, so you could go there as well as Croatia.